Welcome! This article describes what a modern data stack is and how companies can leverage it to gain business insights. Building a proper modern data stack has become an essential element for data-driven companies seeking to thrive in today's fast-paced digital world and data-driven world.
What is a Modern Data Stack?
The term 'modern data stack' was first coined in the mid-2010s to refer to a collection of cloud-based tools for managing and analyzing data.
A modern data stack essentially allows companies to gain valuable business insights by efficiently storing, integrating, and analyzing huge volumes of data from diverse sources. As data volumes grew exponentially, traditional data warehouses and business intelligence tools were no longer sufficient. The modern data stack emerged as a new approach to data management that could handle large, diverse datasets and support data-driven decision-making at scale.
What does a Modern Data Stack include?
A modern data stack includes many different components because each component serves a specific purpose in enabling companies to manage and gain insights from their data. The components work together in an integrated fashion to provide a full solution for data management and analytics. However, the components often vary based on a company's specific needs and priorities.
Some of the most common components include:
Cloud data warehouses for scalable storage and computing.
Data integration platforms to ingest data from various sources.
Data transformation tools to prepare and model the data.
Business intelligence tools for analysis and visualization.
Data quality and governance tools to ensure data accuracy, security, and compliance.
Now that we've gone through a high-level overview of what a modern data stack is and what are some of the most common components, we are proud to present our robust modern data stack solution.
After thoroughly analyzing the leading options, we have assembled a set of technologies that we believe deliver an unparalleled experience.
Our ITS Automated Modern Data Stack: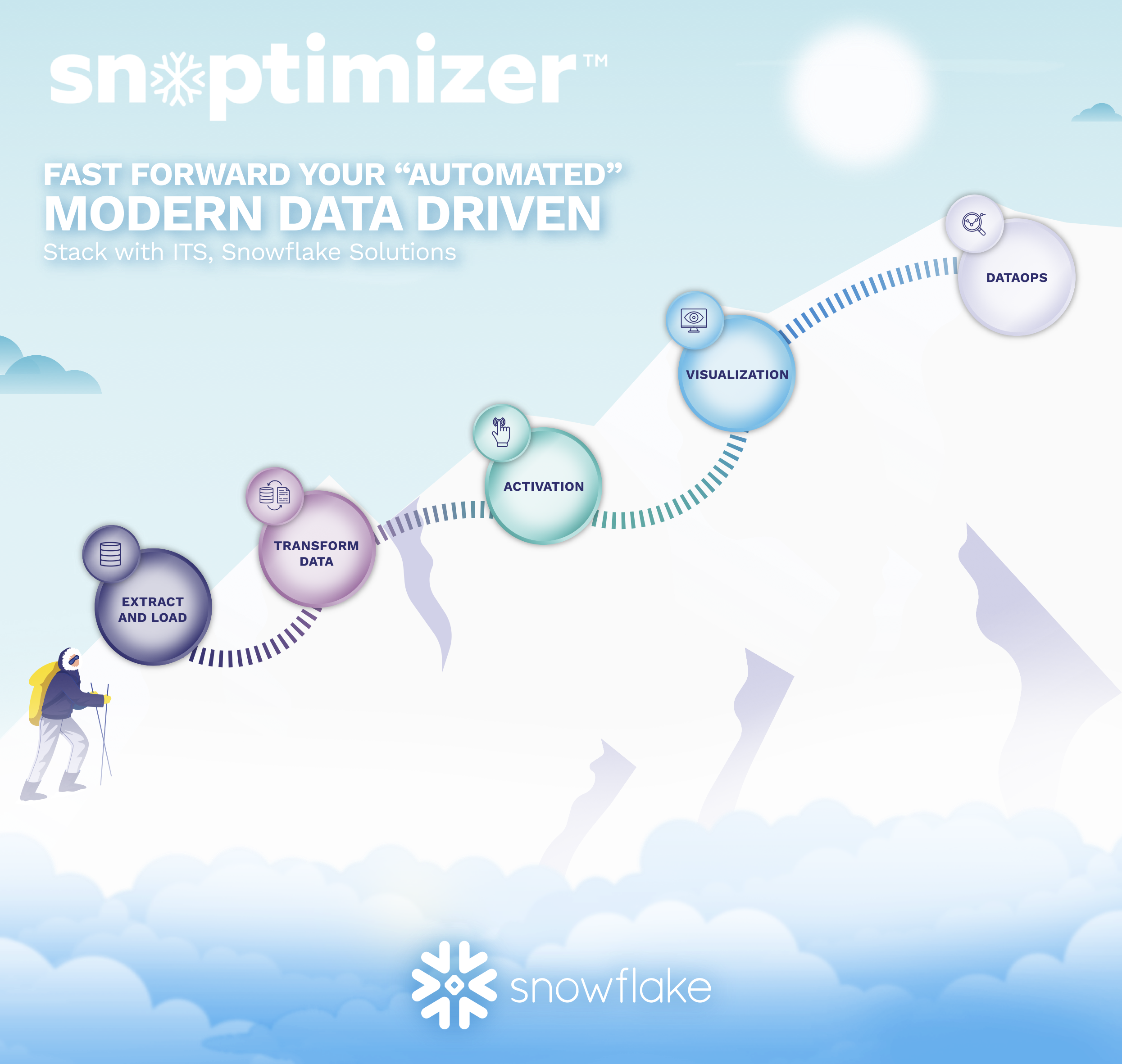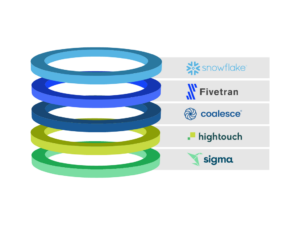 The benefit of having your modern data stack automated is that it reduces the need for manual data engineering and integration. Automated tools handle the heavy lifting of data ingestion, transformation, and integration so that your data analysts and scientists can focus on deriving insights and business value from the data. Automation also increases speed, scalability, and reduces costs.
The layers of our automated modern data stack consist of companies with whom we have official partnerships (Snowflake, Fivetran, Coalesce, Hightouch, and Sigma).
Base Layer 0 – Snowflake
Firstly, a modern data stack needs a base layer like Snowflake because it provides the foundational data storage and computing infrastructure upon which the rest of the stack is built. We choose Snowflake's cloud data warehouse because it can efficiently store huge volumes of data from diverse sources and run complex queries across all of it.
Our website name, 'Snowflake Solutions,' reflects our sole focus on Snowflake as our foundational technology. We have unparalleled expertise and a proven track record of delivering cutting-edge, customized Snowflake solutions for all of our clients. Our Founder, Frank Bell, is considered the top Snowflake optimization expert in the world and has been a leading pioneer of Snowflake's infrastructure and optimization solutions.
What does Snowflake provide?
A scalable cloud data warehouse.
Separation of computing and storage.
A multi-cluster, shared data architecture.
Automated data loading and unloading.
Time travel for data correction.
Data sharing across accounts and organizations.
Base Layer 1 – Fivetran
Fivetran is a cloud-based data integration platform that helps organizations centralize data from various sources into a unified view. It automates the process of data integration, making it easier for businesses to access and analyze their data in real-time.
What does Fivetran provide?
It uses an ELT to quickly load your data into your warehouse prior to transforming it.
Fivetran normalized schemas replicate the data from your sources into the familiar relational database format, so analysts can immediately run queries on it.
Fivetran offers over 300+ pre-configured connectors for various data sources and they only take five minutes to set up.
Automated schema drift handling, updates, data normalization, and more.
Built-in automated governance and security features.
Real-time data movement with low impact on the source system.
Automated data entry and extraction across systems.
It avoids the high costs associated with data integration due to increased engineering resources.
Base Layer 2 – Coalesce
When we came across the full demonstration of Coalesce, we were blown away. In our view, they are one of the largest game-changers in recent years.
Coalesce is a data transformation tool specifically built for Snowflake that leverages a column-aware architecture. It provides a code-first, GUI driven experience for managing and building those transformations. Coalesce provides the first automated transformation data pipeline tool we have tested that scales with Snowflake and makes the transformation of data pipelines more automated.
What does Coalesce provide?
It's easy to use when creating patterned transformations.
Extreme transformation flexibility at both object and pipeline levels. Combined code and GUI editing.
Automation templates that be shared with your data engineering team.
Coalesce separates the build and the deployment of data pipelines. Providing flexibility in testing your data pipeline.
You are able to use column-aware metadata for the automated creation of database objects including dimensions.
You can easily build data pipelines with Snowflake Streams and Tasks via Coalesce
You can quickly implement patterned transformations like Deferred Merge across hundreds or thousands of tables.
Built for true cloud scale as a cloud-first tool to operate on top of Snowflake.
Base Layer 3 – Hightouch
Hightouch can be a really powerful tool. Hightouch is the leading Data Activation platform that syncs data from your warehouse into 125+ SaaS tools with no engineering effort needed.
What does Hightouch provide?
Ease of use in inputting data and extracting value.
Amazing loading flexibility that allows you to sync your warehouse data to any SaaS tool with integrations with 100+ destinations.
Automation that does not require you to input custom code or use CSVs.
Security with cloud computing that never stores your data, and has several certifications that ensure security compliance and data governance: SOC 2 Type 2 Compliant, CDPR compliant, HIPAA compliant, and CCPA compliant.
Easy control over who has access & authorization to make changes.
Base Layer 4 – Sigma Computing
Sigma Computing is a cloud-based Business Intelligence (BI) platform that is used for data exploration and visualization. It increases speed to insights by using Snowflake's lightning-fast computing power coupled with the familiarity of spreadsheets. It operates as a calculation engine on top of Snowflake and the best part is that Sigma never, (if done correctly) creates extracts.
What does Sigma provide?
Offers code-free and code-friendly data manipulation & visualization.
Ease of use with a familiar interface that is designed to look like a spreadsheet.
Drag & drop functionalities that improve user interactions and do not require any additional technical know-how or skill.
The only BI tool that was built for the Snowflake Cloud Platform. Therefore, it has speedy connections that reduce latency as users run queries.
Conclusion
Are you unsure about the best automated modern data stack for your business? Given how important choosing the right solution is, schedule a free call with us. We can walk you through the options to find what suits your needs best.
The powerful automated modern technology stack we outlined in this article is the one we employ for the vast majority of our projects. We wholeheartedly endorse all these partners and their solutions to our clients who are primarily transitioning to Snowflake.
Do you have any data automation needs we have not already addressed?
We hope this article proved useful in considering what a truly automated, modern data infrastructure should look like.
Be sure to check out blog for more information regarding Snoptimizer or Snowflake.